Description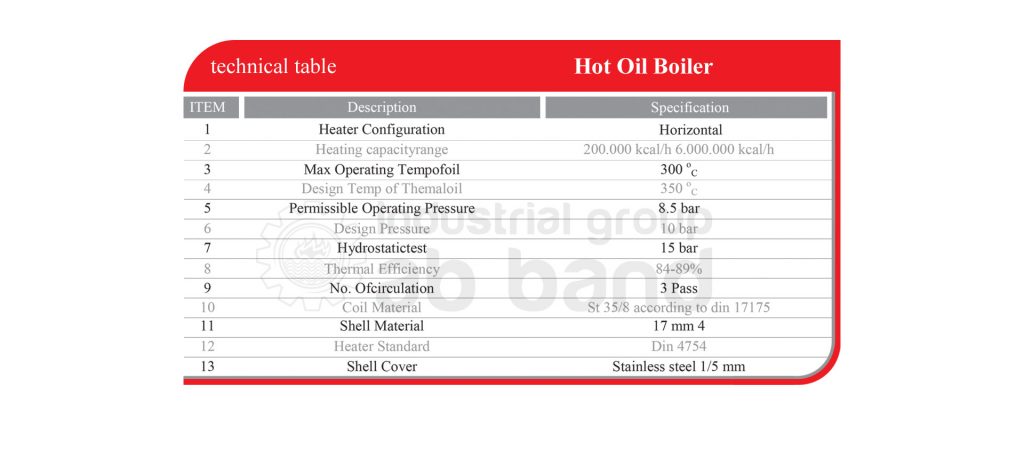 Hot Oil Boiler
Water and steam are usually used as working fluid and heat carrier in industrial heating systems. However, at the high pressures and temperature, these materials have some limitations in terms of installation and security systems. Therefore, at high temperature applications like heating natural gas, Crude oil and, indirect heating steam, hot oil is utilized. Hot oil can operate at 300 °C atmospheric pressure vessel. Moreover lower operation pressure, usage of hot oil at high pressure and temperature has some advantages as following :
• Saving energy Consumption
• Capability to install in simple spaces
• The least amount of time to reach desired temperature in comparison with other boilers
• Simple operation
• Less noise pollution in comparison with other boilers
• Infinite thermo capacity
• No heat dissipation through Condensation
• Less size
• Needless of Primary water feed treatment process
• No danger of corrosion or damage of freezing
• Accurate and secure design of hot oil vessel for optimum utilization at high temperature is very important.
Ab band hot oil heating systems are designed based on international standards API an DIN 4754. These systems are integral oil tube Coil and introduced to the market in two different models: horizontal and Vertical. In addition, the capacity is between 100,000 kcal/hr and 6,300,000 kcal/hr. All of the Construction levels are under direct Supervision of Quality Control inspections.